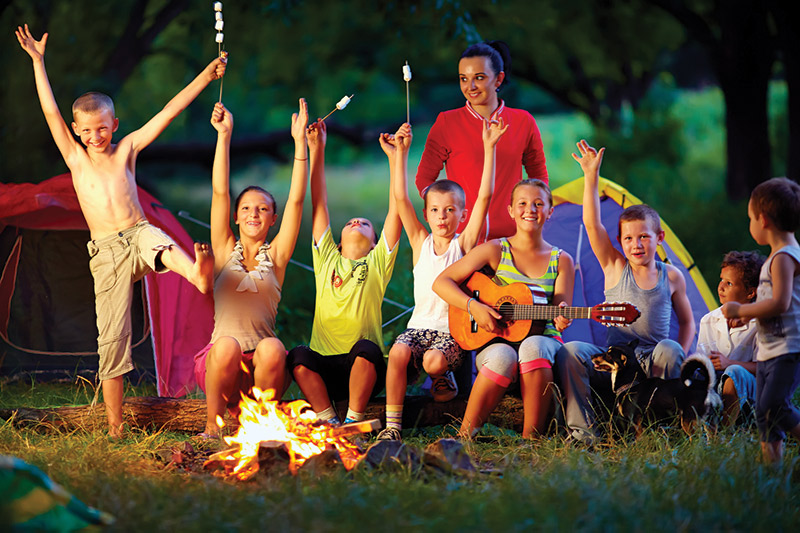 5 Skills Students Can Learn in Summer Camps
Parents always want the best for their children. That's what makes parenting so challenging, as there are so many things you may want to give or do for your child, but accomplishing all this would be virtually impossible.
The "challenging parenting" aspect is also very much present when it is time for you to decide what your child should do once summer rolls around.
In most cases, children see the summer break as a time for lounging around all day, waiting for something exciting to happen. You, as a parent, can make their summer more exhilarating – not to mention advantageous for your child's future – by enrolling him in an academic summer camp.
At this point, you might be asking yourself: "What can my child get from attending a summer camp?" Well, for starters, your youngster can learn these five crucial life skills:
1.   Teamwork
Although teamwork may already be incorporated in some school exercises, your child's level of expertise in this particular skill can be taken up a notch by joining summer camps. This is because, during most camp activities, youngsters learn that working in cooperation with others – even people they have just met – is still the best course of action when doing something unfamiliar.
Children who are used to working with a team grow up into adults with better chances of succeeding in school and at work.
2.   Resilience and Perseverance
Summer camps are known for the engaging learning environments they foster. Still, this fun gathering isn't always about the positives all the time. After all, people – not just children – learn best when they make mistakes.
When faced with a challenging scenario, like facing difficulties on a robotics summer camp project, children learn how to persevere even without the help of their parents. Although it may be painful to know that your child may be facing hardships, it is critical that you're not there to come immediately to his aid so that he can learn to overcome the obstacle on his own.
Once he powers through the difficulty, he will feel stronger and more independent. This is also necessary for him to feel confident, knowing that he can do difficult things if he is resilient. This also has a positive effect on his sense of self-worth.
Problems will always arise, but it is how people deal with it that matters. With resilience and perseverance, students bring their best problem-solving and analytical skills into play, seeking out creative solutions to issues instead of cowering from them.
3.   Communication and Social Skills
During summer camps, children also get to practice their people skills, particularly their ability to communicate through working with teams or consulting with camp trainers.
Because they are forced to live outside the comforts of parental protection, children learn various forms of communication – from writing and speaking to using and interpreting body language to express their thoughts and feelings. This is particularly true if you choose a camp that caters to children from different backgrounds; they learn about respect for others' beliefs and potentially establish friendships with people from all walks of life that they meet.
4.   Independence
The new experience that summer camps provide also helps your child learn to become independent. While he might feel nervous at first, he would eventually open up to the possibilities and try.
New experiences help children grow. After your child faces the uncertainties and insecurities with support from coaches and trainers, he should be able to feel confident enough to accomplish the tasks on his own.
And, believe it or not, this shift happens more often than most parents expect, with children begging to stay in camp a lot longer instead of the opposite. Once they become immersed in the experience, the initial reluctance they felt at the start of camp will be nothing but a shadow of a wonderful experience.
5.   Decision-Making
With independence comes numerous chances for making important decisions. When you leave your child at summer camp, you also provide him with a way to hone his decision-making skills.
And since the camp is a structured environment, he should be able to make crucial choices based on the facts and possible consequences without putting himself at risk of facing any dangerous situations. This is most beneficial for kids who are timid or fearful of coming out of their comfort zone.
Developing Useful Life Skills in Children
While it may not be apparent in the beginning, the life skills that children learn when participating in educational summer camps may affect how they live life as adults. Since childhood shapes what a person would become, you have to make sure that your child is given every opportunity – the best ones – to gain the necessary tools he needs to thrive and live his life well.
AUTHOR BIO :- Maloy Burman is the Chief Executive Officer and Managing Director of Premier Genie FZ LLC. He is responsible for driving Premier Genie into a leadership position in STEM (Science, Technology, Engineering and Mathematics) Education space in Asia, Middle East and Africa and building a solid brand value. Premier Genie is currently running 5 centers in Dubai and 5 centers in India with a goal to multiply that over the next 5 years.