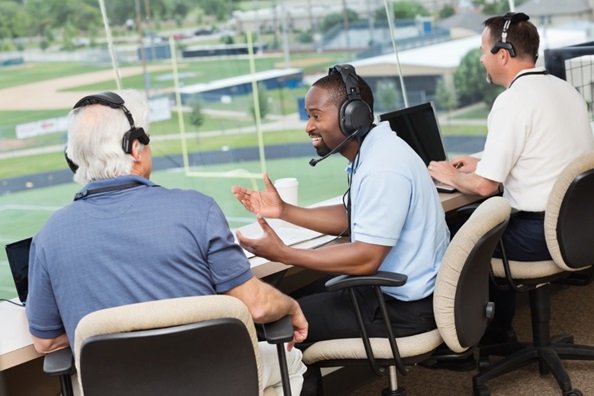 Exploring the diverse specializations for sports journalists
In sports, where excitement, talent, and drama collide, a crucial element brings all these aspects to life: sports journalism. Behind the captivating headlines and thrilling match reports are dedicated professionals specializing in unraveling the stories shaping the sports landscape.
Sports enthusiasts often find themselves marveling at the extraordinary abilities of athletes, following their journeys, and experiencing the highs and lows alongside them. Yet, behind every iconic moment lies the diligent work of sports journalists who strive to capture the essence of these experiences and share them with the world.
This guide sheds light on the lesser-known opportunities for sports journalism, uncovering the hidden gems and unexplored paths in this field.
What is the role of a sports journalist?
Journalism, in its essence, is the art of gathering, analyzing, and presenting information to the public. It serves as a cornerstone of democracy, acting as a watchdog for society, and ensuring transparency and accountability.
Journalists report breaking news, investigate corruption, and cover cultural events, which allows the public to stay informed and engaged with the world. Sports journalism is a niche within journalism that combines the love for sports with the art of storytelling. Sports journalists have the power to transport readers to the front-row seat, allowing them to experience all the excitement and emotions. They showcase the triumphs and challenges of athletes and uncover the untold narratives that unfold both on and off the field.
What sets sports journalism apart is its ability to intertwine the thrill of sports with the power of the written word. It combines the passion for athletics with the skills of a wordsmith, resulting in a unique form of storytelling that resonates with fans across the globe.
But sports journalism isn't limited to merely reporting game scores or player statistics. It is about capturing the essence of the game. The breathtaking moments that make a fan's heart race and the in-depth interviews that reveal the human side of athletes.
Diverse specializations in sports journalism
The beauty of sports journalism lies in its diversity of specializations. Whether a journalist is interested in investigative reporting, feature writing, broadcasting, or data-driven analysis, there is a niche within sports journalism that can cater to their unique skills and passions. The possibilities are vast and varied, from covering the Olympics to reporting on your local teams.
Broadcast media
One of the most prominent avenues within sports journalism is broadcast media. This specialization encompasses live sports coverage, where journalists can bring the excitement of the game directly to viewers' screens. Within broadcast media, sports journalists can undertake various roles and responsibilities.
Play-by-play announcers, or commentators, are the familiar voices accompanying fans as they watch games unfold. They provide real-time action descriptions, offering insightful analysis and capturing the moment's energy. These professionals deeply understand the sport they cover, and their ability to engage and entertain the audience is paramount.
Color commentators complement the play-by-play announcers by providing expert analysis and perspective during the game. Drawing from their own experiences as former athletes or coaches, they offer unique insights into strategies, techniques, and the overall dynamics of the sport.
Another crucial role in broadcast media is that of a sports reporter. These journalists gather information, conduct interviews, and deliver news updates about sports events. Sports anchors sometimes report from the sidelines of a match and conduct post-game interviews with athletes. They also cover breaking news in the sports world, keeping audiences informed and engaged.
Working in broadcast media requires strong communication skills, a deep knowledge of the sport covered, and the ability to think quickly and adapt to life situations. Sports journalists in this field must be adept at crafting compelling narratives, analyzing complex game strategies, and conveying the emotions that permeate the world of sports.
Media production
Behind every captivating sports broadcast or digital production lies a team of skilled professionals working tirelessly to bring the action to life. These individuals play integral roles in various aspects of media production, ensuring that the content meets the highest standards of quality and engages audiences.
Producers are the driving force behind media productions. They oversee the entire process, from conceptualization to execution, and maintain the overall quality and coherence of the production. In sports journalism, producers work closely with journalists, directors, and technical teams to plan and coordinate coverage of sporting events. They manage budgets, make creative decisions, and ensure that the final product aligns with the vision and objectives of the media outlet.
Camera operators are responsible for capturing the visuals during sports events. They operate cameras, maneuvering them to capture key moments, actions, and emotions. Camera operators must have a solid understanding of the sport they are filming and the technical aspects of camera operation, such as framing, angles, and movements. They work closely with directors and producers to capture the desired shots effectively.
Graphic artists create on-screen graphics, including scoreboards, player profiles, statistics, and visual effects. They work closely with producers and editors to develop visually engaging and informative elements that enhance the viewer's experience. These professionals' creativity and technical skills contribute to the overall aesthetics and professionalism of the production.
Sound engineers set up and operate audio equipment, including microphones, sound mixers, and recorders. They work closely with camera operators to ensure the audio is clear, balanced, and free from unwanted noise. Engineers may also be involved in post-production, where they mix and master audio tracks to achieve optimal sound quality.
Editors shape the narrative and structure of the content. They review raw footage, interviews, and other materials to craft compelling stories. Sports editors select the most impactful moments, arrange sequences, and add context through voiceovers, graphics, and sound bites. Journalists will need a keen eye for detail, a strong understanding of storytelling techniques, and proficiency in video editing software to succeed here.
Sports writing and editing
In sports journalism, writing and editing are vital in conveying the stories, analysis, and insights that captivate sports enthusiasts. Sports journalists specializing in writing and editing contribute to newspapers, online media outlets, and various digital platforms, including social media and blogs.
Sports sections in newspapers have long been a trusted source of sports news and analysis. Sports writers in this domain cover various topics, from game reports and player profiles to in-depth features and opinion pieces. They provide readers with a comprehensive understanding of the sporting world, capturing the excitement of the matches and offering valuable context and analysis.
Sports editors play a crucial role in shaping the content of sports sections. They oversee the selection of stories, ensure accuracy and fairness, and work closely with writers to refine their work. Sports editors must have a keen eye for detail, a deep understanding of the sport they cover, and the ability to make tough editorial decisions so that the final print resonates with readers.
The rise of online media has revolutionized sports journalism, providing new avenues for sports writers and editors to connect with audiences. Social media platforms have become integral to sports journalism, allowing journalists to share real-time updates, engage with fans, and provide immediate analysis and commentary. These platforms offer a more interactive and immediate experience, bridging the gap between journalists and readers.
Blogging has also become a popular medium for sports writers to express their thoughts and opinions. Sports blogs cover various topics, from match previews and reviews to in-depth analysis and feature stories. Bloggers can delve deeper into niche areas, explore unique angles, and express their personalities through writing.
Sports editors in the digital space play a crucial role in curating and managing content. They ensure that articles, blog posts, and social media updates are engaging, accurate, and aligned with the publication's voice and style. Online sports editors are also responsible for optimizing content for search engines and maximizing reach through effective digital marketing strategies.
Sports photography
Photographers are often referred to as visual storytellers, and in sports journalism, they hold a unique position at the forefront of history. Their ability to freeze moments in time through a lens is a testament to their artistry and craftsmanship. Sports photographers have the power to capture raw emotions, exhilarating actions, and triumphant victories, creating images that transcend time and generations.
Moments can be fleeting and unpredictable in sports, and thus photographers must possess a keen eye for detail and anticipation. They meticulously study the game, the athletes, and the environment, positioning themselves strategically to capture those split-second moments that define a match or an athlete's career. Their photographs provide a visual record of events and become iconic symbols representing the essence of sports.
Sports photographers are adept at capturing pure emotion, The joy of a winning goal, the determination etched on an athlete's face, or the heart-wrenching agony of defeat. These images can evoke strong emotions and connect with viewers profoundly. But professional sports photography is not merely about pointing a camera and pressing the shutter button. It requires time, dedication, and an unwavering commitment to honing the craft.
Photographers immerse themselves in the sports they cover, understanding the nuances, strategies, and personalities involved. They study the athletes' movements, anticipate pivotal moments, and masterfully compose their shots to convey the intensity and beauty of the game.
The technical aspects of sports photography are equally important. Photographers must handle specialized equipment proficiently to capture the action from a distance without compromising image quality. These include fast lenses and high-speed cameras. They possess a deep understanding of lighting conditions, adjusting settings on the fly to ensure optimal exposure and sharpness.
Moreover, sports photographers often work in challenging environments, such as dimly lit stadiums or adverse weather conditions. They navigate these obstacles with resilience and creativity, finding unique angles and perspectives to capture breathtaking images that stand out.
Sports photographs become valuable historical documents that educate and inspire in the following years. They provide a visual narrative of sporting achievements, cultural milestones, and societal changes.
Iconic sports images remind us of the power of the human spirit, the pursuit of excellence, and the unifying force of sports. They inspire, educate, and ignite the passion for sports for generations.
Data journalism and analytics
Data journalism involves collecting, analyzing, and visualizing vast amounts of data to identify meaningful narratives and trends. Journalists utilize statistical data from various sources, including official databases, historical records, and real-time feeds, to extract valuable insights. They sift through this information to find compelling stories, support their narratives, and provide context to the audience.
One prominent application of data journalism in sports is the analysis of team and player statistics. By analyzing historical data, journalists can highlight exceptional performances and identify trends that contribute to the narrative surrounding a particular team or player.
Data journalism also plays a crucial role in making informed predictions. Journalists can identify factors that contribute to team or player success by analyzing historical performance data. They use statistical models and predictive analytics techniques to generate forecasts and probabilities for upcoming matches or events.
Incorporating data visualizations is another key aspect of data journalism in sports. Infographics, charts, and interactive graphics help journalists present complex data in a visually appealing and easily digestible manner. Visualizations allow audiences to explore and interpret data, enhancing engagement and understanding.
Furthermore, data journalism and analytics contribute to investigative reporting within sports journalism. Journalists use data to uncover anomalies, discrepancies, and potential issues such as doping scandals, match-fixing, or financial irregularities. Journalists can shed light on hidden truths and hold sports organizations accountable by meticulously analyzing and cross-referencing data.
It is important to note that while data journalism and analytics provide valuable insights, they are not meant to overshadow the human aspect of sports. The stories, emotions, and human narratives remain at the core of sports journalism. Data is a powerful tool to enhance storytelling, support analysis, and give fans a deeper understanding of the game.
Marketing and advertising
Marketing and advertising are pivotal in amplifying brands, engaging audiences, and fostering connections between sports organizations and their fans. Various professionals within sports journalism contribute to these efforts, including sports content producers, social media executives, public relations (PR) executives, and press officers.
Sports content producers working for leagues or teams are responsible for creating captivating and compelling content that showcases the brand's identity and values. They develop strategies to engage fans through various media, including articles, videos, podcasts, and interactive experiences.
Social media has revolutionized the way sports organizations interact with fans. Social media executives in sports journalism are tasked with creating and implementing social media strategies to promote brands, engage audiences, and drive fan participation. They manage social media accounts, curate content, and utilize various platforms to create a strong online presence. Social media executives work closely with content producers, marketing teams, and influencers to maximize the reach and impact of social media campaigns.
PR executives in sports journalism are responsible for managing the image and reputation of sports organizations. They develop and execute PR strategies that align with the organization's objectives and target audience. PR executives cultivate relationships with media outlets, journalists, and influencers to secure favorable coverage and generate positive publicity.
Press officers act as liaisons between sports organizations and the media. They facilitate media access to athletes, coaches, and key personnel, coordinating interviews, press conferences, and media events. During challenging situations such as scandals, controversies, or emergencies, press officers and the PR team step in to protect the reputation of the sports organization.
Seize the opportunity
For aspiring sports journalists, there are several steps they can take to seize opportunities within the field. They can consider enrolling in sports journalism graduate programs. The St. Bonaventure University online program provides valuable insights into the nuances of sports journalism, including topics such as race/ethnicity, gender, and the journalist's role in a diverse media landscape.
Studying sports journalism here offers specialized courses, practical training, and opportunities to network with industry professionals. It equips students with the skills and knowledge necessary to navigate the ever-changing sports journalism industry.
For students to stand out in the competitive sports journalism industry, gaining hands-on experience is crucial. They should seek opportunities to cover events on the sidelines or from the press row alongside other media members. They can also look for internships with sports media outlets, local newspapers, or online sports coverage platforms.
Wrap up
Sports journalism offers a dynamic and diverse array of opportunities for aspiring professionals. From broadcast media to sports writing, photography, and marketing, the field encompasses various specializations contributing to the vibrant sports media landscape.
Seizing opportunities in sports journalism requires dedication, perseverance, and continuous learning. Students should stay current with sports news, follow industry trends, and consistently produce high-quality content. Interested individuals can position themselves for success in sports journalism with passion, hard work, and a commitment to excellence and making a meaningful impact off and on the field.