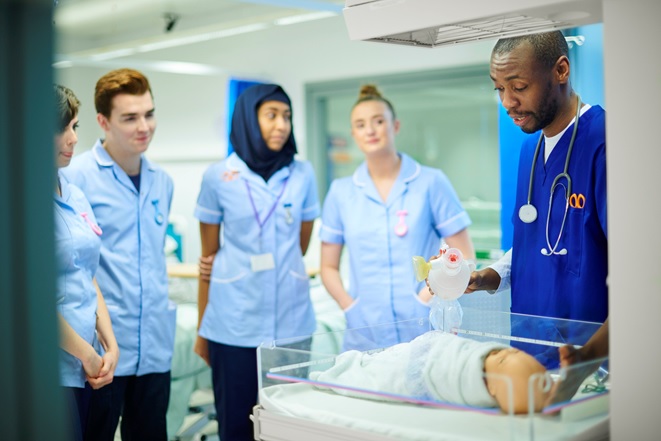 Neonatal nursing job outlook compared to other nursing specialties: factors driving the demand
If you are contemplating a career in nursing, you may be asking what specialty provides the most promising employment outlook. While there are various professions of nursing in high demand, one expertise that stands out is neonatal nursing. With the demand for newborn healthcare on the upswing, there has never been a better moment to think about a career in this industry. So, what precisely is generating this demand? In this article, we'll investigate the reasons that are leading to the expansion of the neonatal nursing practice and contrast it to other medical specializations. Whether you're a seasoned nurse looking to switch specializations or a young nursing student trying to decide on a future career, this article will offer you the information you need to make an informed decision.
Examining the growth of neonatal nursing: factors leading to increasing demand in today's healthcare sector
Neonatal nursing is specialized within the nursing field that concentrates on the treatment of newborns, particularly those who are premature or have health concerns. The function of a neonatal nurse comprises performing expert medical assistance, monitoring vital signs, giving medications, and using life-sustaining equipment for very unwell or premature babies. Neonatal nurses work closely with physicians, other nurses, and care providers to establish individualized care plans that improve the health and condition of the infant and its family. With improvements in medical equipment and a greater focus on mother and baby wellbeing, the demand for neonatal nurses is projected to continue to increase in the coming years. As such, selecting a vocation in neonatal nursing gives a promising future for persons with a desire to care for the most vulnerable in our society.
Neonatal nursing job outlook
Due to the growing specialization of newborn care, the career outlook for neonatal nurses is highly positive. According to data from the U.S. Bureau of Labor Statistics (BLS), the employment of registered nurses (RNs) is predicted to grow by 7% between 2019 and 2029, which is faster than the average for all other occupations. Yet, the job outlook for neonatal nursing is significantly more positive. Neonatal nurse practitioners are helpful in the healthcare system because of their in-depth training and proficiency in assessing, diagnosing, and effectively managing the health of infants.
Furthermore, the National Association of Neonatal Nurses (NANN) report estimates that the demand for practitioners will rise by 16% from 2016 and 2026. Additionally, the 2020 data reveals that half of NNPs are extremely happy with their scope and function in practice. Nonetheless, the demand and employment possibilities for NNPs continues to grow as 67% of hospital managers cite insufficient NNPs and the allocation of NNPs across the workforce is sub-optimal.
If you're contemplating a career as a neonatal nurse practitioner, it's crucial to understand if this profession is the appropriate match for you. The career outlook for neonatal nurses is generally bright, and the demand for skilled neonatal nurses is projected to rise considerably in the coming years. Yet becoming a NNP involves training, and it's crucial to determine if you have the required abilities and traits to prosper in this field. In the next portion, we'll examine some of the crucial factors to consider when analyzing whether you're a suitable fit for a profession in neonatal medicine.
Comparing to other nursing specialties
Neonatal nursing has a bright future, but other nursing specializations are also expected to develop. For instance, the BLS statistics forecast that between 2019 and 2029, the employment of nurse anesthetists, nurse midwives, and nurse practitioners would increase by 45%. Also, the move to outpatient treatment and the increasing emphasis on preventative care is anticipated to increase the number of work possibilities for nurses soon. It is also anticipated that nursing shortages in particular fields, such as long-term care, may raise demand for nurses in other specializations.
A rising need for healthcare services in rural and underserved regions, as well as an increase in primary care service demand, are some of the causes of this rapid expansion. To guarantee they can deliver the best treatment possible in the always-changing healthcare environment, nurses must keep current on the most recent advancements. Furthermore, the focus placed by nursing schools on the improvement of critical thinking and problem-solving abilities is growing. For nurses to keep on top of their profession, this will be crucial.
Why this specialization is a promising career path
A specialized healthcare professional who treats newborns and infants up to the age of two with comprehensive medical care is what neonatal nurse practitioners are. They collaborate with neonatologists, pediatricians, and other healthcare professionals to provide advanced care to premature, critically ill, and complex medically ill infants. They oversee a variety of clinical tasks, such as performing physical examinations, ordering diagnostic tests, creating and implementing treatment plans, and keeping an eye on their patients' progress. Overall, neonatal nurse practitioners are essential for ensuring the best possible outcomes for newborns and their families by providing high-quality care to the most vulnerable members of the healthcare system.
Conclusion
When compared to other nursing specializations, neonatal nursing has a more promising career outlook due to the improvements in newborn care, an aging population, and a scarcity of neonatal nurses. Anybody thinking about a career in this lucrative and in-demand industry must have a solid understanding of the duties of a neonatal nurse practitioner.
The task is not only rewarding, but it may also provide passionate nurses with a significant role in assisting some of the most vulnerable patients and their families. A career in neonatal nursing will not only provide you with a rewarding job, but it will also enable you to enrich the lives of babies and their mothers. Neonatal nursing becomes a promising and satisfying career choice once one is equipped with the correct training and experience for the job.