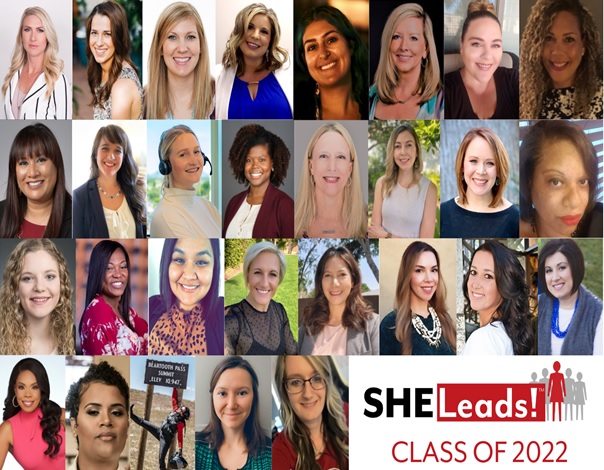 Three University of Phoenix Staff Graduate From the  SHE Leads!™ Program
Summer 2022 saw three University of Phoenix staff members complete the SHE Leads!™ program, an initiative from the nonprofit agency Arizona Foundation for Women (AFW), which advocates for women's causes. They graduated from the female-centric leadership program, which takes place annually, alongside 26 other women. The successful staff included Operations Project Manager Christina Totah, Finance Advisor Deborah Hoskins and Program Manager of Educational Equity Jelisa Dallas.
How SHE Leads!™ Works
SHE Leads!™ is a six-month leadership program that helps delegates shape the skills they need to thrive in their roles and progress in their careers. They receive support from a mentor and complete a fundraising component of the program to raise money for charitable organizations. They also study an in-depth curriculum that delves into diversity and inclusion, growth mindset, building strategic partnerships and more.
Delegates also work through personal strength assessments, develop relationships with like-minded individuals at workshop sessions and after-hours networking events and craft toolkits to progress their personal and professional skills.
Supporting Women in Arizona
During the first half of 2022, those taking part in SHE Leads!™ raised more than $72,000 for nonprofits that support women in Arizona. This fundraising can help organizations reduce the number of women who experience intimate partner violence (25 percent nationwide), the number of women who don't have a personal healthcare provider (22 percent in Arizona), and the number of women who are owed but don't receive child support (75 percent in Arizona).
This year's participants funded a variety of organizations as grantees: Check for a Lump, Televerde Foundation, Women's Health Coalition of Arizona, Alice's Place, Defenders of Children and Time Out, Inc. A portion of the funds raised will also support the future of SHE Leads!™
The SHE Leads!™ Program Co-Chair and University of Phoenix's Director of Financial Services Tracy DeSoto has praised this year's program cohort for their efforts. "The 2022 SHE Leads!™ class exceeded our expectations! We are so proud of the work they did and the level of growth they demonstrated," she said. "We couldn't be prouder of this cohort as they gained confidence and leadership skills while raising a significant amount of money that will help support the underserved women in Arizona."
DeSoto serves on AFW's board of directors alongside University of Phoenix's Senior Director of Learning Development Barbara Schifano, who is also the co-chair of SHE Leads!™
University of Phoenix's Support for SHE Leads!™
University of Phoenix sponsors SHE Leads!™ and has been a major partner since the AFW launched the inaugural SHE Leads!™ program in 2021. The University wholly supports its staff members' voluntary engagement with the program and the wider AFW.
AFW's CEO Mesha Davis has commended University of Phoenix for its program support. "Having key university leaders commit their invaluable time to developing the curriculum and building the program series speaks volumes to the University of Phoenix's commitment to the women in our state," she said. "SHE Leads!™ is possible because of their support."
Improved Confidence
Dallas, one of University of Phoenix's staff members who completed the 2022 program, noted that the program helped improve her confidence in her ability to ask for help both in fundraising and in her professional journey. She has complimented the practicality of the program, explaining that participants practiced tactics and strategies relating to salary negotiations, executive presence and cultivating a growth and leadership mindset. She added that completing the program assessments helped her understand her strengths and pinpoint where she should lean on others for support.
Totah, another of University of Phoenix's participants, raised more than $4,000 independently, and SHE Leads!™ has formally recognized her as a top fundraiser. Totah explained that she joined the program to challenge and elevate herself. She credited support from her family and her mentor, who helped her conceptualize creative solutions and grow in confidence, for her success in the program.
About Arizona Foundation for Women
As a supporting organization of the Arizona Community Foundation, AFW enables better lives for women and children in Arizona. Aside from the women-focused leadership development program SHE Leads!™, AFW also runs the SHE Counts!® mission. This program aims to recognize women's unmet needs and develop initiatives and methods to address these needs.
About University of Phoenix
University of Phoenix's mission is to help advance adult and nontraditional learners' educational goals. The University aligns its degree programs with a variety of paths such as roles in cybersecurity, nursing and business. The University also provides flexible start dates, online classes and a selection of scholarship opportunities. s Meanwhile, the University's Career Services for Life® commitment to active students and graduates provides the resources needed to be prepared when entering the workforce for no additional charge. These services include career guidance, resume and interview support, and education and networking opportunities. For more information, visit www.phoenix.edu.