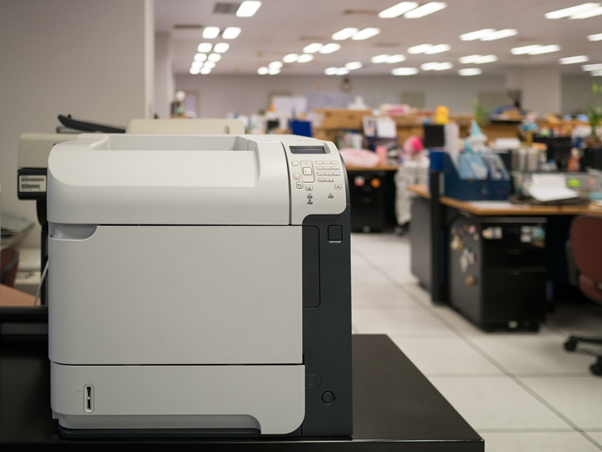 Tips for Buying a Multifunction Office Printer
First of all, what is a multifunction printer (MFP)? This is a machine that is part printer, part copier, part scanner and/or part fax machine. Multifunction office printers are popular with business owners who want less physical assets to keep track of, lower costs and better workflow. Printers with scanners in them are particularly helpful when creating a digital workflow and documentation process. This article will provide some handy tips to help you choose the right multifunction printer for your workplace.
Know What You Need
What do you need your printer to do? Do you want it to print colour photos, or black and white documents? Do you need it to be wireless, or would corded connection be okay?  These are just some of the capabilities that these kind of office printers offer. Some are wireless, some print in colour, and some are mobile and cloud connected. You need to decide which of these specifications are important to you and why. You also need to decide this before you find yourself in a shop about to hand over your cash (or credit card, as the case may be).
Consider Ongoing Costs
When contemplating which of the many available office printers to buy, make sure you take into account the ongoing costs of running the machine. Inkjet multifunction printers can sometimes seem cheaper initially, however if you don't need to print in colour, then you can save on printing costs by picking up a laser multifunction printer instead. Ongoing costs can also include times when the printer needs repairs or works at a rate that is less than optimal. These kinds of problems can be avoided by checking reviews of the office printers you're thinking of buying.
Ensure You Can Connect to Your Network
Do you know how your multifunction printer will connect to your existing network? With so many manuals available for free on the internet, there's no excuse for failing to do your research. Other things that you might like to take into account include the amount of start-up training required, and if there are any software wizards to guide you through the setup process. How will you upgrade software on this device, and will it be a painless process? If you need to work from multiple devices, such as in an office environment, you may want to buy a multifunction printer with Wi-Fi built-in. These multifunction office printers don't require cables to connect to the network, which makes for convenient mobile printing and reduces the need for messy looking cords.
How to Make an Informed Choice
When choosing to buy multifunction office printers, it's important to think through your needs carefully. Some printers are easier to set up and use than others. You can do your own research by looking at manuals online and inspecting different models in stores before you make an informed purchase. Make sure you also look for unbiased reviews of your preferred products online to get a user's perspective on different models. When you do your due diligence in this way, you will be more likely to choose a multifunction printer that's a true asset to your business rather than a liability.