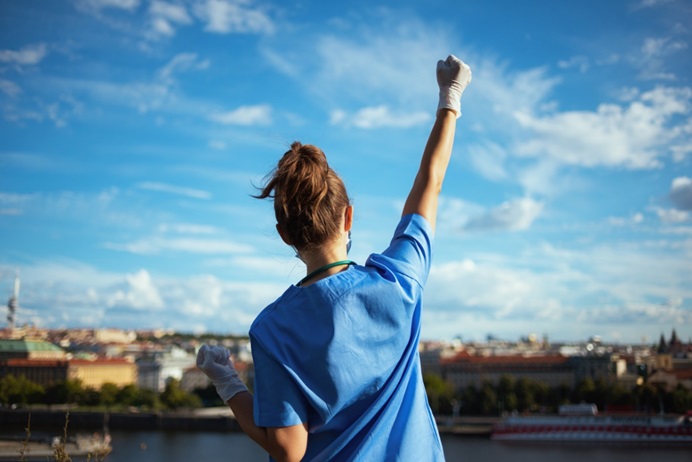 Advancing the future of healthcare: the impact of MSN-prepared nurses
Are you considering pursuing a Master of Science in Nursing (MSN) degree? Well, it's essential to understand the answers to this critical question: What are the impacts of MSN-prepared nurses?
MSN-prepared nurses are nurses with advanced skills and knowledge, ready to take on the intricate issues of modern healthcare. These healthcare professionals are making a difference in the current healthcare landscape by improving patient outcomes and organizational development. Keep reading as we embark on a journey to explore how MSN-prepared nurses are reshaping the future of healthcare.
A brief overview of MSN-prepared nurses
Learning more about an MSN degree is crucial to fully understanding the impact of MSN-prepared nurses. An MSN is a graduate-level program for nurses seeking to develop their careers and advance in nursing.
The program expands on the principles learned in an associate or a BSN program, equipping nurses with specialized expertise and proficiencies in various areas, including education, research, leadership, and clinical practice. An MSN degree program usually requires 1-2 years for completion. However, specific MSN courses may extend the time to three years.
There are several MSN specialties that nurses may pursue, including the following:
Nurse manager/administrator
 MSN-prepared nurses can hold positions as managers or administrators in different healthcare settings. They supervise the nursing team, handle financial resources, create and execute rules and protocols, and ensure patients receive excellent care.
Clinical nurse leader (CNL)
Clinical Nurse Leaders (CNLs) are highly skilled nurses who oversee and organize patient care in a particular unit or healthcare facility. They collaborate with multidisciplinary teams to design care programs, elevate patient results, and guarantee efficient delivery of healthcare services.
Nurse researcher
MSN-prepared nurses can participate in nursing research by conducting investigations, examining data, and sharing research discoveries. They are crucial in enhancing evidence-based practices and upgrading patient care results.
Nurse informaticist
Nurse informaticists utilize their nursing practice and information systems expertise to manage and improve healthcare technology. They work with IT specialists to develop, execute, and assess healthcare information systems, electronic health records, and decision-making support tools for enhancing patient care and simplifying workflows.
Nurse consultant
MSN-prepared nurses can serve as consultants, offering their knowledge and advice to healthcare organizations, policymakers, or other interested parties. They can provide valuable input on healthcare delivery, quality improvement, patient safety, or specific areas of nursing practice.
Nurse advocate
MSN-prepared nurses can support patients, families, and communities by engaging in healthcare policy development and affecting legislative actions. They might collaborate with nursing organizations or government bodies to create healthcare policies that improve patient health and strengthen nursing practices.
These roles represent a few potential opportunities for nurses with an MSN degree, and the specific duties differ based on the healthcare environment, area of expertise, and personal skills of the nurse in question. You can acquire the necessary skills and knowledge by enrolling at an accredited university such as Wilkes University for RN to MSN online programs.
The program is tailored for registered nurses aspiring for career advancement. It facilitates a smooth progression from RN to MSN degree, enabling you to augment your expertise and abilities without compromising your professional commitments. The program emphasizes acquiring advanced clinical competencies, professionalism, and the implementation of evidence-based practices to enhance patient results.
The impact of MSN-prepared nurses
MSN-prepared nurses have a significant influence on the healthcare system and the well-being of patients. They possess advanced knowledge and expertise, enabling them to impact the nursing profession significantly. Let's look at some of the impacts of MSN-prepared nurses in the healthcare sector:
Improved clinical practice
MSN-prepared nurses possess advanced clinical skills and knowledge, allowing them to deliver top-notch, research-based healthcare to patients. For example, Nurse Practitioners (NPs) have the power to diagnose, handle, and oversee common acute and chronic illnesses.
Their capacity to prescribe medicines, order medical tests, and offer all-encompassing care makes them exceedingly valuable primary care providers, specifically in regions with a shortage of physicians. The broadened range of practice for NPs enhances adequate care and results in improved patient outcomes and heightened patient contentment.
Apart from NPs, other MSN-prepared nurses have expertise in various areas such as pediatric care, gerontology, psychiatric-mental health, and women's health. These nurses specialize in their respective fields, bringing a wealth of knowledge and advanced expertise.
They offer precise and customized care to patients of all ages. MSN-prepared nurses also have an essential role in care coordination by working with healthcare teams to ensure patients receive continuous care and smooth transitions between healthcare settings.
Management and leadership
MSN-prepared nurses have leadership and management capabilities besides their clinical expertise in healthcare organizations. Nurse administrators are in charge of handling nursing departments, managing budgets, and ensuring exceptional patient care. Their awareness of healthcare policy, strategic planning, and organizational behavior makes them competent enough to foster positive transformation and boost the quality of healthcare delivery.
MSN-prepared nurses also assume leadership roles in diverse teams, including doctors, pharmacists, and other healthcare professionals, to advance patient safety and the quality of care. They facilitate streamlined and effective healthcare delivery through their communication proficiency, delegation understanding, and proficiency in navigating intricate healthcare setups. Their management and leadership expertise enables creating and implementing policies and procedures that enhance patient outcomes and organizational efficiency.
Research and evidence-based practice advancement
The role of research in shaping the future of healthcare is crucial, and MSN-prepared nurses make significant contributions to advancing evidence-based practice. They generate new knowledge, enhance healthcare outcomes, and drive innovation through research and scholarly activities.
MSN-prepared nurses possess in-depth knowledge of research methodologies, enabling them to conduct studies, scrutinize data, and disseminate findings. Their contribution to evidence-based practice is noteworthy as they integrate the latest research into clinical decision-making, develop best practice guidelines, and implement quality improvement programs.
By bridging theoretical concepts with practical application, MSN-prepared nurses ensure patient care is founded on the latest evidence and research, resulting in better patient outcomes and improved healthcare practices.
Educating the next generation
MSN-prepared nurses also play an essential role in educating future nurses. They have both practical knowledge and teaching abilities, which allow them to prepare prospective nurses for current healthcare challenges. Their responsibilities include creating educational programs, guiding learning experiences, and mentoring students to ensure they are equipped to provide safe and effective care.
They also utilize new and creative teaching techniques, integrate emerging technologies, and encourage critical thinking and clinical reasoning skills. By supporting and teaching the upcoming generation of healthcare professionals, MSN-prepared nurse educators contribute to enhancing the healthcare system.
Interprofessional practice and collaboration
Collaboration and interprofessional practice are indispensable parts of contemporary healthcare, and nurses with MSN degrees are responsible for promoting effective communication and teamwork. They work with physicians, pharmacists, social workers, and other healthcare experts to offer comprehensive and all-inclusive patient care.
MSN-prepared nurses provide their perspectives and proficiency to interdisciplinary teams, assisting in collective decision-making, patient care coordination, and enhanced results. By promoting effective collaboration, they bridge the divide in healthcare delivery, advance interprofessional schooling, and augment the overall patient experience.
Health policy and advocacy development
MSN-prepared nurses have a unique opportunity to affect healthcare policy and campaign for reforms that enhance patient care and healthcare outcomes. Their competence in healthcare systems, research, and leadership empowers them to influence policy-making, ranging from local to national levels.
MSN-prepared nurses actively participate in healthcare organizations, professional groups, and government agencies to advocate for policies that mitigate healthcare disparities, improve access to care, and aid in nursing workforce development. They help in policy development, provide authoritative insights, and participate in legislative initiatives influencing healthcare delivery and nursing practice.
Technology and innovation integration
The healthcare industry has transformed due to technological advancements, and nurses with MSN degrees are leading the way in integrating innovative solutions into clinical methods. They actively embrace new technologies, such as electronic health records, telehealth, and mobile health applications, to improve patient outcomes, communication, and operational efficiency.
Working together with informaticists and healthcare technology experts, MSN-equipped nurses develop and employ customized technology solutions that respond to the specific demands of patients and healthcare settings. Through their familiarity with clinical practice and technology, they act as a liaison between healthcare providers and technology developers, ensuring that technological advancements meet the needs of patients and better the overall healthcare delivery process.
Address population and global health
Due to their extensive comprehension of population health and the factors that influence health outcomes, MSN-prepared nurses can tackle health inequities and participate in global health programs. These professionals possess the capacity to operate in various national and international settings to better the health results of communities.
MSN-prepared nurses utilize community health assessments to devise health promotion tactics that align with the healthcare requirements of specific populations. They also partner with community organizations to address various healthcare needs through disease prevention, health promotion, and health education initiatives. These efforts are geared toward promoting superior health outcomes on a global scale.
Ethical decision-making in healthcare
MSN-prepared nurses are skilled in handling complicated ethical situations and making well-informed choices to ensure patients receive ethical, patient-centered care. These nurses have a comprehensive knowledge of ethical principles, legal structures, and professional regulations, allowing them to address moral dilemmas in their clinical work. MSN-prepared nurses support patients' rights, encourage self-determination, and encourage conversations between healthcare professionals on ethical matters, ultimately leading to ethical and sound healthcare practices.
Emergency response and disaster preparedness
MSN-prepared nurses have an essential responsibility in handling disaster preparedness and emergency response. These nurses receive training on evaluating and prioritizing patients during emergencies, organizing resources, and offering immediate aid.
Collaborating with other healthcare staff, public health agencies, and emergency management teams, MSN-prepared nurses help develop emergency response strategies, educate the public, and ensure efficient healthcare provision during crises and disasters.
Enhance patient education
MSN-prepared nurses are highly skilled in educating patients and promoting health, enabling people to make informed choices regarding their health. These nurses create customized educational tools, offer disease prevention and control guidance, and encourage healthy behaviors. MSN-prepared nurses engage in community programs, run health screenings, and support health policies prioritizing prevention and well-being.
Why do MSN Programs matter?
An MSN degree is a crucial requirement for progressing in your nursing profession. Enrolling in MSN programs equips you with sophisticated knowledge and abilities, offering more excellent prospects. Here are some of the reasons why you should consider enrolling in an MSN program:
Specialize your expertise
By enrolling in MSN programs, you can concentrate on specific areas such as nurse practitioner, nurse midwifery, nursing informatics, nursing education, and nursing leadership. For instance, as a nurse practitioner, you can carry out patient diagnoses, prescribe medications, and administer treatments.
Enhance your earning potential
As per the Bureau of Labor Statistics, nurse practitioners and nurse midwives command a median pay of $123,800 annually. Nursing instructors and educators earn around $73,500. Overall, MSN graduates earn substantially more than those with an ADN or BSN qualification.
Gain valuable leadership experience
Pursuing an MSN degree in nursing administration, management, or education enables you to prepare for leadership positions such as nurse manager, director of nursing, or dean of a nursing program. You'll enhance your resource management, healthcare policy, and guidance abilities.
Advance healthcare
An MSN degree empowers you to make valuable contributions to patient care, health systems, and population health. You can use your advanced knowledge and clinical expertise to introduce the latest evidence-based practices to enhance healthcare outcomes.
MSN programs offer professional growth prospects and the chance to influence the development of healthcare. Although earning an MSN demands dedication, the benefits are highly advantageous. If you are enthusiastic about advancing your nursing profession, consider exploring accredited MSN programs and continue to elevate your job prospects.
Overall, we should not overlook the significance of MSN-prepared nurses as the healthcare sector evolves. MSN-prepared nurses boost clinical practice, manage healthcare facilities, promote research and evidence-based practices, and teach the next generation of nurses. Their advanced education, specialized skills, and leadership qualities make them essential contributors to the future of healthcare.
Their influence exceeds individual patients and impacts the healthcare system by increasing accessibility, quality, and efficiency. As we anticipate the future, it's evident that MSN-prepared nurses will continue to shape and progress healthcare by ensuring that patients receive exceptional care despite the ever-changing circumstances.